How do you see hip-hop evolving in the next handful of years? Better yet, do you think it can evolve?
In our past in America during times of economic divide, homelessness, and political fuckery, artists have managed to dig deep within themselves and give the best they have to offer. My hope is that the new artists turn to the true empathy that people need for inspiration and return to the history of the '70s. The acts in general thought about a little more than self-gratification and social media affirmation.
When was the first time you heard rap?
The first time I heard rap was on cassette tapes. It was crews that obviously took the time out to create and rehearse group performances that are unmatched to this day. Shout out to the Cold Crush, Grandmaster Flash and the Furious Five, Crash Crew, Fantastic Romantic, Funky 4 Plus 1, the Treacherous Three, etc. I can't put into words the feeling of getting these tapes in your possession, and taking them home to blast in your boom box.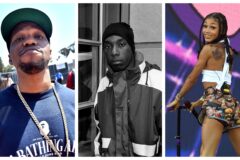 What do you think was the most important era in hip-hop?
Easily the late '80s showed us this was a global phenomenon and not a fad. The mid- to late '80s had a run that rivals the golden era '90s, without question.
Interview by Daniel Kohn


منبع: https://www.spin.com/2023/09/pharoahe-monch-quote-unquote-interview/